Whoever you are, wherever you are from, you are welcome here.
THE CHURCH DOORS ARE OPENING
"Do nothing out of selfish ambition or vain conceit. Rather, in humility value others above yourselves" Philippians 2:3

While we navigate these different and changing times it is important that we put the needs, safety, and concerns of others above ourselves. Please see the video below for guidelines about services.

Please come and Worship with us In-Person or Live Online:
Sundays at 8:30 a.m. / 10:00 a.m. Last Names A-K / 11:30 Last Names L- Z & Live Online at 10 a.m.
Can't Make the Service?
You can still watch us Live through the links below:
Wanting to catch up? Check out our most recent or browse past sermons below.
Did something come up? We understand. Listen to last Sunday's message here and on our app anytime from anywhere.
More than Hashtag, a Movement.

Life's hard. You want to get it right, we want to help. Sometimes, churches and Christians are known for what they're against. At Christ's Community Church we believe that God is for you and we are for you.
We would love for you to come and see for yourself.

If you are interested in becoming a living witness to what God is doing in and around our community you can download these cards to share with all.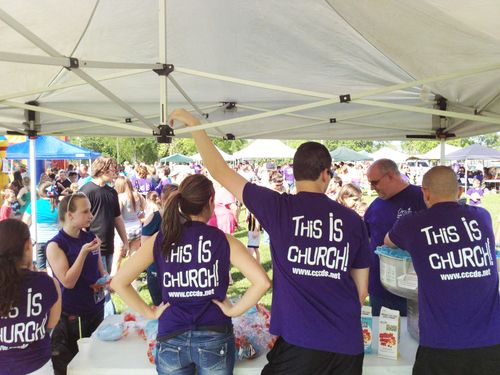 From small groups and classes to "Be the Church" weekends, Sunday school to Saturday morning coffee for men and women, we have dozens of opportunities for people to gather together in Christ's community weekly, encouraging one another closer to a life devoted to Christ.
As you help us cultivate a culture of giving, it's important to know that when you give to Christ's Community, your gift will do more than just pay the bills—your gift will be used to ignite our community engagement and giving that helps initiate life for others.

Ways You Can Give
• In Person
• By Mail
• Online
• By App
• Text
We stand by broken hearts.
Christ's Community Church is a place where people come together like family, to meet Jesus, engage in life-giving community, and where everyone is welcome. We believe in creating an atmosphere where people can have authentic encounters with Christ, discover their gifts and use them for Him. Join us for our Sunday services!
Sundays at 8:45am & 10:30am
Wednesdays: 7pm-8pm